Speaker Information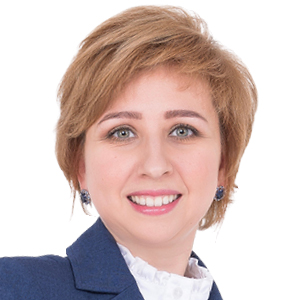 Antonina Getsman DMD
Dr 
Antonia 
Getsman
 is the head doctor of the 
pedodontic
 department in one of the 
p
rivate 
"Generation" 
dental clinics 
in
 Moscow
, Russia
. 
She w
orks with children from the earliest childhood to teenagers (from infancy to adolescence)
 and 
has been using 
operative microscope
s
 in 
her 
daily practice since 2008. 
Getsman's
publications focus on dental treatment 
for 
children of different age groups by means of modern technologies (for example, 
rubber dams
 (for kids), operative microscope
s
, root canal treatment
s
, crowns, conscious sedation, behavioural management etc.) and preventive care (hygiene, preventive programs for kids with primary and permanent teeth). 
S
he 
is the 
author of a training course for 
pedodontists
 in Russia
 and a s
peaker 
at
 education centres in Russia and other countries. 
S
he 
lectures on various 
popular topics
, including m
icroscope
s
 in 
p
aediatric practice, 
r
ubber-dam 
use 
for kids,
 r
oot canal treatment in primary teeth,
 and 
adaptation, sedation and 
general anaesthesia 
treatment. She 
gives 
both lectures and hands-on
 courses
. 
Share on social media:
Dilemma between adaptation, sedation and general anaesthesia treatment—Making a clear decision is co-sponsored by Tribune Group GmbH. Tribune Group GmbH is a recognized ADA CERP and AGD PACE provider.
Ask the Expert
...